Amy Scagliotta's Fundraising Page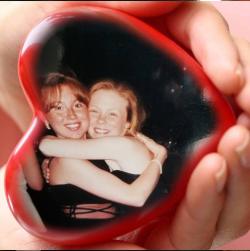 The Brain Injury Challenge: Race for Recovery offers everyone the opportunity to have fun and support MossRehab and the Brain Injury Association of Pennsylvania.
I am racing for my dear friend Nicole Ramsay. Nicole was in a tragic accident on August 14 and is in a coma and currently at MossRehab recovering from her injuries. Nicole and I have been friends since 7th grade and we continued our friendship through college where we were roommates and had so many wonderful times together. We continued long after our colleage years with many adventures traveling together and we even worked together for a few years. While our lives at times took us in different directions our friendship has always remained a constant and for that I am truly grateful. Nicole is one of the most amazing people and all who know her, know how blessed we are to call her friend, mother, wife, sister, daughter, aunt and so on.
Please considering donating for Nicole and her wonderful family as she continues to heal at MossRehab. You will not only be helping Nicole and her family, but so many others that MossRehab and the Brain Injury Association of Pennsylvania help on a daily basis.
Thank you!
ABOUT Brain Injury Challenge: Race for Recovery 2018
Saturday, October 27, 2018
Tyler State Park – Richboro, PA
The Brain Injury Challenge: Race for Recovery offers everyone the opportunity to have fun and support MossRehab and the Brain Injury Association of Pennsylvania. CLICK HERE for details or to register,
Supporters
Name
Date
Amount
Comments
Cali Roberts
10/26/2018
$25.00
Anonymous Friend
10/25/2018
$130.00
Keep fighting!!
Mandy Shenk
10/25/2018
$50.00
Terri Castagnoli
10/23/2018
$100.00
Ann Scagliotta
10/23/2018
$25.00
Keep fighting Nicole. Love and prayers!
Lori Honey
10/23/2018
$25.00
Keep fighting Nicole! Love and prayers to you and your family.
Anonymous Friend
10/23/2018
$150.00
LouAnn Fehr
10/20/2018
$25.00
Sabine Morrow
09/27/2018
$250.00
Godspeed, Nicole. Thoughts and prayers to her family and friends.
Julie Pepe
09/26/2018
$25.00
Martha Maranzani
09/26/2018
$100.00
Hugs Amy! :)
Amy Scagliotta
09/24/2018
$100.00
Rosalee Blumer
09/24/2018
$25.00
Kristen Green
09/24/2018
$50.00
Sent with love and prayers for your friend Nicole :)
Bernard Maffucci
09/24/2018
$50.00
Kevin Lilley
09/24/2018
$100.00
Total
$1,230.00