Alycia Stano's Fundraising Page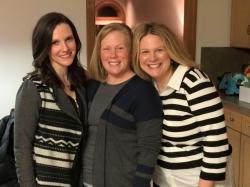 Hi Family and Friends,
As many of you know, one of my dearest friends, Nicole Ramsay continues to fight everyday after a horrible accident on August 14th. She has been in a coma since the accident and I decided to race in her honor, in the Brian Injury Challenge Race for Recovery on Saturday October 27th. She is currently working hard at MossRehab in Elkins Park, PA.
The Brain Injury Challenge: Race for Recovery offers everyone the opportunity to have fun and support MossRehab and the Brain Injury Association of Pennsylvania. If you ever met Nicole two words come to mind immediately, generous and caring. Nicole and I have been friends since 7th grade, we share countless memories of a lifetime, too many memories to put into words. I am eternally grateful for knowing her and her beautiful family. Nicole always puts others needs before herself and I can tell you many times in my life when I really needed help or someone to talk, Nicole would drop whatever she had going on in her own life and be there for me. Many others have so many similar stories of Nicole's love and friendship that we know this race and fundraiser will be successful to help raise awareness for Brian Injury and MossRehab where she continues her journey.
Please consider donating for Nicole, no amount too small, it all adds up and goes to a wonderful cause.
Thank you Love Alycia
ABOUT Brain Injury Challenge: Race for Recovery 2018
Saturday, October 27, 2018
Tyler State Park – Richboro, PA
The Brain Injury Challenge: Race for Recovery offers everyone the opportunity to have fun and support MossRehab and the Brain Injury Association of Pennsylvania. CLICK HERE for details or to register,
Supporters
Name
Date
Amount
Comments
Alycia Stano
10/26/2018
$80.00
Dave Baldwin: Praying for your recovery Nicole.
Michelle Egan
10/25/2018
$50.00
Scott Silvoy
10/19/2018
$100.00
Keep fighting, Nicole. Stay strong Alycia and friends!
Alycia Stano
10/05/2018
$20.00
Pam Caesar: Praying for you Nicole, keep fighting!
Donna Melnyczenko
09/30/2018
$25.00
Praying for you
Linda Bergstol
09/28/2018
$50.00
Thinking of you and your family everyday, Nicole! I am praying for your full recovery, keep up the fight!
Marie Cuocco-Galebach
09/25/2018
$50.00
THINKING OF NICOLE, FAMILY AND FRIENDS DAILY. KEEP FIGHTING... WE ARE ALL HERE ROOTING FROM THE SIDELINES.
Samantha Dowling
09/25/2018
$25.00
Lori Davidson
09/25/2018
$50.00
Any friend of Alycia's is a friend of mine. Prayers of healing for Nicole and her family.
Gina Stano
09/24/2018
$100.00
Melanie Wolman
09/24/2018
$50.00
Good luck with the event and with the fundraising for a worthy cause. My thoughts continue to be with Nicole.
Carole Repasch
09/24/2018
$50.00
Carrie Ann CG
09/24/2018
$500.00
I am so proud of your love and devotion and proud of Nicole's strength to fight. Keep fighting!
Jessica Due
09/24/2018
$50.00
Nicole is always in my thoughts and prayers.
Total
$1,200.00