Marissa's Masterminds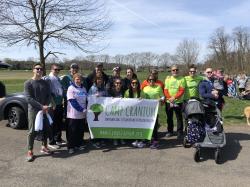 Fourteen years ago I was hit by a car while walking across the street on Halloween. Following the accident, I was immediately medevaced to The University of Pennsylvania Hospital where I underwent emergency brain surgery. In addition to a TBI, I suffered from six broken bones and a collapsed right lung. After surgery, I was transferred to The Children's Hospital of Philadelphia to begin what would become a long and intense recovery. I endured several weeks and months of Occupational Therapy, Physical Therapy, and Speech Therapy. I am forever in debt to everyone that has helped me get to where I am today!
Select the DONATE button on the upper right to support Marissa's Masterminds. If you want to REGISTER to Run, Walk, or Roll, you can do it here: REGISTER

ABOUT Run Walk Roll for Brain Injury 2019
Held on Saturday, April 13, 2019, the Run, Walk, Roll for Brain Injury supports the Brain Injury Association of Pennsylvania and Camp Cranium and their work to prevent brain injuries and to improve the quality of life for people who have experienced brain injury. Held in Tyler State Park in Richboro, PA, it's a 5K scenic timed course, and for those who don't run, a healthy 1-mile walk or wheelchair roll.
Supporters
Name
Date
Amount
Comments
Dan Geiger
04/12/2019
$25.00
Sandy Motts
04/12/2019
$50.00
Dear Marissa, I am so proud of you and your desire and dedication to helping others just as you were helped is outstanding. Love you, Mom-Mom "Motts"
Karina Alvarenga
04/12/2019
$50.00
Stacie Rosato
04/10/2019
$25.00
Sarah Krusen
04/10/2019
$25.00
Coleen Leahy
04/10/2019
$25.00
Samantha Abt
04/08/2019
$25.00
Jonathan Motts
04/08/2019
$25.00
Carol Vernacchio
04/06/2019
$25.00
God Bless You!
Mark & Ashley Hillman
04/02/2019
$185.00
Monica Vaccaro
03/31/2019
$25.00
Kevin Christy
03/28/2019
$50.00
Stephen Witman
03/28/2019
$25.00
Nancy Witman
03/28/2019
$25.00
Kevin & Kerri Christy
03/28/2019
$100.00
Marissa Witman
03/27/2019
$25.00
MARISSA WITMAN
03/27/2019
$375.00
Cozy for a Cause from Whitehall Elementary
Caitlin Schinski
03/26/2019
$50.00
Carl Motts
03/26/2019
$25.00
Carl Motts
03/26/2019
$100.00
Margaret Vesci
03/26/2019
$50.00
You are one amazing woman who knows no boundaries....love you!!
Caitlin Schinski
03/26/2019
$50.00
Witman Jr Family
03/26/2019
$100.00
Patricia Motts
03/24/2019
$25.00
Donna Roth
03/24/2019
$25.00
Kevin Fink
03/20/2019
$25.00
Kevin Fink
03/20/2019
$50.00
Donna Powers
03/18/2019
$50.00
Kristen Abdallah
03/07/2019
$15.00
Brooke Matt
02/26/2019
$50.00
you go girl! Love, Brooke and Matt
MARISSA WITMAN
02/12/2019
$25.00
Erin Grodnitzky
02/12/2019
$25.00
Jamie Swoger
02/12/2019
$25.00
Total
$1,775.00
Report Abuse
Edit My Page