Marissa's Masterminds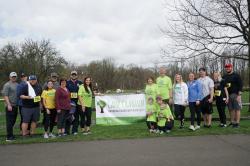 Almost 17 years ago I was hit by a car while walking across the street on Halloween. Following the accident, I was immediately medevaced to The University of Pennsylvania Hospital where I underwent emergency brain surgery. In addition to a TBI, I suffered from six broken bones and a collapsed right lung. After surgery, I was transferred to The Children's Hospital of Philadelphia to begin what would become a long and intense recovery. I endured several weeks and months of Occupational, Physical, and Speech Therapy. I am forever in debt to everyone that has helped me get to where I am today!
Select the Donate button on the upper right to support Marissa's Masterminds. If you want to REGISTER to Run, Walk, or Roll, you can do it here: REGISTER
ABOUT Run Walk Roll for Brain Injury 2021
Brain Injury changes lives. The Run, Walk, Roll for Brain Injury supports the Brain Injury Association of Pennsylvania (BIAPA) and Camp Cranium, who work to prevent brain injuries and support children and adults touched by brain injury.
Thank you for supporting these wonderful organizations.
Supporters
Name
Date
Amount
Comments
Marianne Marinella
09/17/2021
$26.33
So happy to have met you through CBPM, Marissa! You are such an inspiration! <3
Christina, Tom, Connor and Ryan Kozeneiwski
09/17/2021
$25.00
We love you marissa! Sorry we couldn't be there to walk.
Samantha Abt
09/17/2021
$30.00
Mary Abt
09/17/2021
$30.00
Sandy Motts
09/17/2021
$51.80
Happy walking tomorrow!! So proud of you Marissa!
Kevin Correa
09/16/2021
$77.55
Erik Renno
09/14/2021
$25.00
Erik Renno
09/14/2021
$25.00
Heather Olex
09/14/2021
$31.20
Kevin Fink
09/12/2021
$50.00
Kevin Fink
09/12/2021
$53.30
Pat & Alicia Humbert
09/11/2021
$50.00
Patricia Motts
09/10/2021
$25.00
Patricia Motts
09/10/2021
$26.80
Carl Motts
09/07/2021
$25.00
Rachel Bastian/McGarrigle
09/07/2021
$26.06
Tushar Trivedi
08/30/2021
$25.00
Sal Abano
08/30/2021
$25.00
Katie Wilcox
08/23/2021
$50.00
Love Ryan and Katie <3
Kerri Christy
08/19/2021
$51.80
Caitlin & Erik Renno
08/18/2021
$25.00
Lauren Mark Drew Lily and Isla
08/18/2021
$26.06
For Marissa and our other TBI Heroes!
Stephen Witman
08/17/2021
$25.00
Nicole Menna
08/17/2021
$25.00
Nancy Witman
08/17/2021
$25.00
Nancy Witman
08/17/2021
$5.00
Stephen Witman
08/17/2021
$5.00
Stacie Rosato
08/17/2021
$10.61
LoanDepot
03/07/2020
$250.00
MARISSA WITMAN
02/25/2020
$25.00
MARISSA WITMAN
02/25/2020
$15.00
Total
$1,166.51