Heads on Straight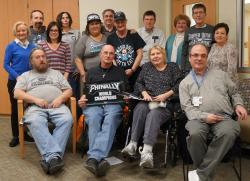 Heads on Straight is a support for people with brain injuries and their families and friends. It meets the first Tuesday of the month at St. Mary Rehabilitation Hospital. We've participated in the Run, Walk, Roll for Brain Injury since the beginning, and we look forward to being a part of this important event in 2019! Please register and support BIAPA and Camp Cranium!
ABOUT Run Walk Roll for Brain Injury 2019
Held on Saturday, April 13, 2019, the Run, Walk, Roll for Brain Injury supports the Brain Injury Association of Pennsylvania and Camp Cranium and their work to prevent brain injuries and to improve the quality of life for people who have experienced brain injury. Held in Tyler State Park in Richboro, PA, it's a 5K scenic timed course, and for those who don't run, a healthy 1-mile walk or wheelchair roll.
Report Abuse
Edit My Team